1. Start
Dreamweaver
, click on the
Site
menu, and select
Define Sites
.
2. The
Define Sites
window will open. Select your web site from the list and click
New
.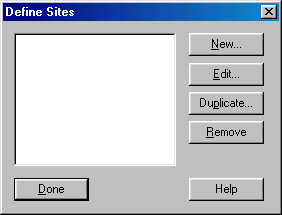 3. Click on the
Local Info
tab.
4.
Site Name
: Give your project a name.
5.
Local Root Folder
: Locate the directory on your local computer where your web site is located.
6. Click on the
Remote Info
tab. From the Access dropdown menu, select
FTP
.

7. Several fields will appear that need to be filled out with your account information.
FTP Host
: This will be in the format myexample.com, where myexample.com is your actual web site domain name.
Host Directory
: This is the initial server directory that you want Dreamweaver to open.
Login
: This is the
FTP Login
assigned to you by Sidetrips
Password
: This is the FTP Password assigned to you by Sidetrips.
Please refer to your Welcome Letter for this information.
8. Select
OK
.
9. Now you are ready to upload your files. Please use the image below for the following instructions.

10. Select your web site from the
Site
dropdown list (
item 1
).
11. Click the
Connect
button
(item 2)
. This will connect Dreamweaver to your server.
12. Select the files that you wish to upload in the window located on the right hand side of your screen. Click the blue arrow
(item 4)
and your files will begin uploading to your server. Use the green arrow
(item 3)
if you wish to download files from your server to your local computer.
For additional Help with Dreamweaver please refer to the Online Support.